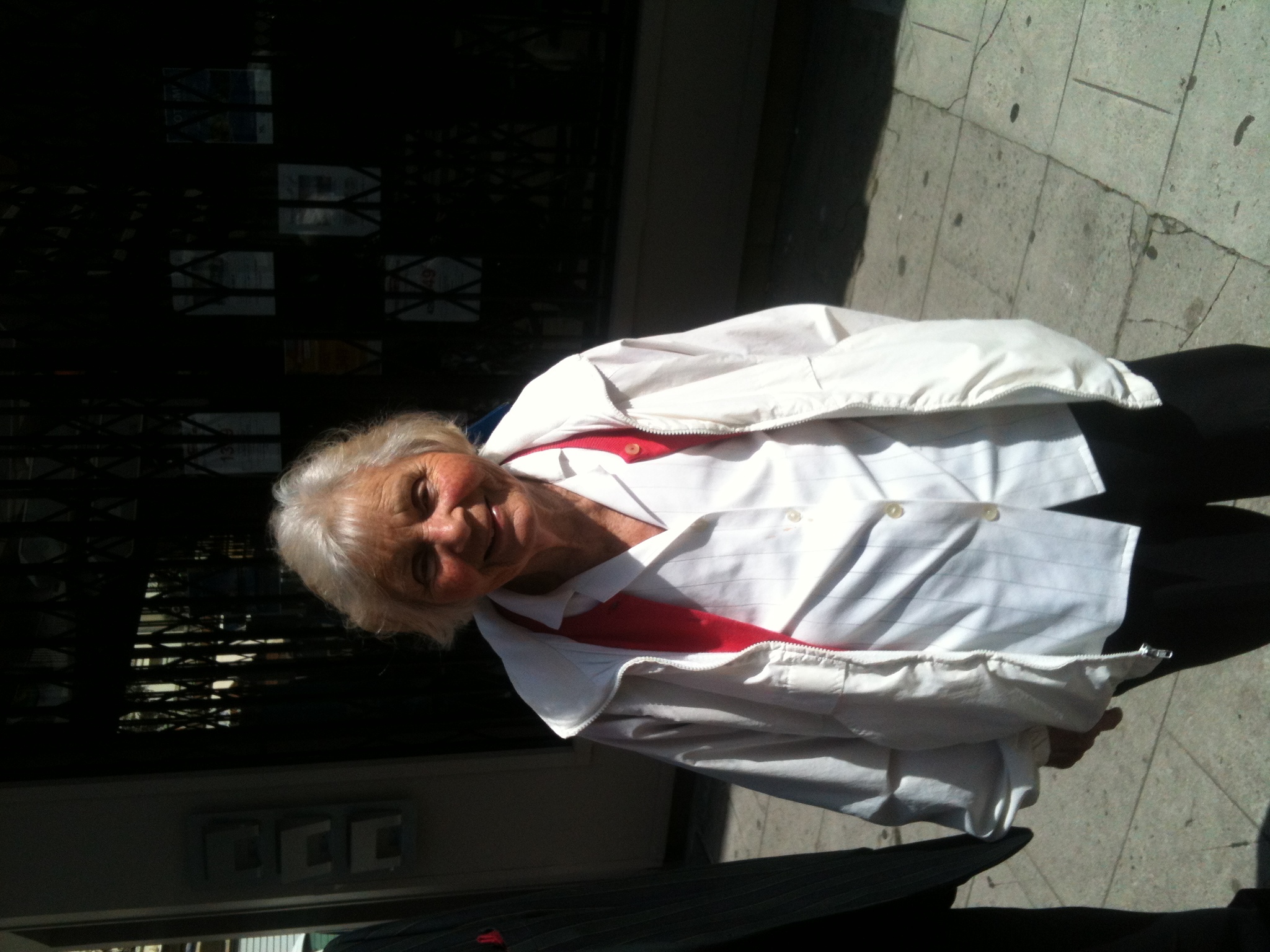 Posted on
Today would have been the 101st birthday of our friend Mme Thumen, whom we knew as Zette.
We got to know Zette when we bought our small flat in Nice 18 years ago and she and her next door neighbour Lily lived two floors below us in our 1920s apartment block. Zette had been born in Switzerland in 1920 and trained and worked as a pharmacist, spending most of her life in France. Tiny, sharp-witted, courteous and interested in life, with an ability to see the funny side of most things, she had an active social round , including twice weekly Scrabble dates with friends alternating between games in French, English and German, regular ping-pong matches at a club on the other side of town, card parties, and lessons in how to use a computer at the local elders centre round the corner. With her friend Henri, a retired school-teacher who lived nearby and was merely rising 70, she went out to lunch every day to a variety of trusted local restaurants. Several times a week they would pick up her ancient car, which was kept in a subterranean garage half a mile away, and go on outings to restaurants in other places - Antibes, Villefranche, Beaulieu, or even St Tropez, or perhaps discovering bargain lunches at an airport hotel or a huge shopping centre. They would walk around marinas, explore botanical gardens, or go to lectures on the history of Nice at the Centre Universitaire Méditerranéen. At least once a year Zette and Henri would go on holiday to somewhere more exotic - a North African resort, or a Portuguese beach, where they would enthusiastically take advantage of any organised activities, proudly showing us photographs of them kayaking, or playing in tennis tournaments.
Lily, Zette's friend and neighbour, was even smaller, a proud Savoyard with a penchant for dirty jokes and a fabulous memory. She had been born in a semi-derelict mediaeval castle in about 2014 to a family who owned a shoe factory and she had been passionately interested in history all her life. Kayaking and ping-pong were not for Lily. She belonged to the Savoyard Society of Nice, sang in their choir, and wrote pamphlets about the complicated history of Nice. She had strong views on the plebiscite of 1860 which had annexed Nice and the Duchy of Savoy to France. Zette and Lily were indefatigable excursionists, going on countless day trips with a local coach company to beauty spots and historical sites, picturesque hill villages and festivals, all of which included lunch in an interesting restaurant, often ending with cheerful singing over the coffee.
Neither Lily nor Zette were really wealthy. Lily's flat amounted to nothing much more than a small room with an alcove for a single bed and the most basic facilities. Zette's was a bit bigger, but only because she had retired to Nice at the age of 60 with a friend and they had bought two adjoining one-bedded flats and knocked them through. The friend had died ten years later and Zette spent most of her time in what used to be her own half, keeping the spare room for the occasional visitor. The sort of restaurants Zette liked were old fashioned family outfits with a daily menu and a proper respect for French culinary traditions. She had a keen appreciation of a well cooked piece of fish and a chef who understood the importance of a good sauce, but neither she nor Henri would consider a menu costing much more than 12 euros for three courses, except on special occasions like New Year's Day. Every time we were in Nice we would go out to lunch together, often with Henri and Lily, and usually going Dutch by agreement. Our friends would consider one Euro a suitable tip for the whole party, even if there had been five of us. More than once the notes I had surreptitiously stashed under the condiment stand as a more conventional pourboire were spotted by the eagle-eyed Henri and forcibly given back to us with an outraged lecture on our excessive generosity as we departed the restaurant under the slightly jaded gaze of the patron. Their restaurant lunches were pretty much all they ate, although Henri used to buy discounted fruit at the market opposite his flat and remark upon the plums he had had for his supper occasionally.
Every morning during the summer at around eight, Zette picked up her folding chair and walked the fifteen minutes down our road to the pebbly beach to swim, wearing her habitual golden trainers or walking sandals. There she would meet up with Henri and other friends and engage in a ritual of solemn dips, swims, and gentle gossip, before dispersing home for coffee. Sometimes we would accompany her, usually moving further down the beach as she joined up with her friends. As the years passed, the chair became more of a burden on the hot walk, and one day we noticed that she was spending much longer than usual in the sea a few yards out from the shore. When Ivor swam out to investigate, he discovered that she was too weak to get out of the water, and was afraid that she was going to start sinking. She always said that he saved her life, but it was the end of her swimming in Nice, although she and Henri had a few more resort holidays. She gave up the car soon after, which meant that getting to her ping pong club took a bus and tram, so she soon gave that up too.
Zette and Lily knew everyone in the building, and Zette held keys for us and half a dozen other residents. Every time we arrived she would update us on the events we had missed - the arrest of the woman upstairs, the outbreak of bedbugs on the floor below, the visit of the exterminator, the outrageous suggestion to install a CCTV camera by the front door, which the residents' committee would definitely reject in the name of French liberty...... Sometimes the two of them would come round for tea, miniature patisseries and a small glass of rosé for Lily, smoked salmon canapés and a glass of water for Zette, who never drank anything else. Lily bounced back from various health scares with the aid of very efficient services and the loving care of Zette, who was starting to be a bit forgetful herself. Neither that nor being 95 diminished her vitality though. It was Zette who rescued us when we got stuck in the lift, and Zette who offered to carry Ivor's luggage to the station taxi rank when he had sciatica. (We said no, obviously).
Lily never made her hundredth birthday, so never received the bunch of flowers from Nice's charismatic mayor Christian Estrosi she had so looked forward to (she was always open to the possibility of meeting a nice man, never having found one she liked enough to marry). She slipped away at 99 with Zette by her side. As Zette became more muddled, Henri slipped away too, first to lunches and holidays paid for (it turned out) by younger old women, and then to live near his daughter in Northern France where he could be confident that he would be looked after. He never got in touch with Zette again. Her scrabble partners went too - one died and the other moved away. Life was saved from becoming too grim by the advent of Nathalie. Nathalie is an Assistante de Vie, who came six days a week and cleaned and shopped and cared and looked after, with a constant stream of mercurial cheerful chat. Every time we visited, Zette would be sitting comfortably in her chair, rolling her eyes at us at Nathalie's loquaciousness and asking us questions about our family and whether we'd been swimming. One night we were woken by a team of firemen shinning up the building and trying to break through Zette's shutters with an axe because her alarm had gone off. We hastily trotted downstairs and eventually roused a very sleepy Zette who gave the firemen extremely short shrift about the destroyed shutter before thanking us politely and heading back to bed. The next morning she had no idea what had gone on. Every time we returned we expected to find that she could no longer stay in her flat, but Nathalie kept her afloat, taking her to Sunday lunch with her family so that her chef husband could cook Zette the fish and the sauces she still enjoyed, and her young boys could treat her like their grandmother.
Last year, in mid pandemic, we helped celebrate Zette's 100th birthday from afar, with flowers and phone calls. She did get the letter from Christian Estrosi, which didn't impress her as it might have impressed Lily. She couldn't really hear us on the phone, but her sense of irony was intact - 'You should try this getting old Deborah, it's great....'. Around her the city was going into lockdown, the news was full of the same fears and emergencies as the rest of the world, and Nathalie was having to show her papers several times a day on the way to Zette's flat and back, but Zette's world was unchanging and she seemed stoical. Neither her niece nor her friend's daughter, who had had so many holidays with Zette in Nice, could come at Christmas, so Nathalie gave up Christmas with her own family to spend it with Zette in her flat. In February we had a distraught call from Nathalie. Zette had fallen, had been taken to hospital, and had died the next day from Covid. Nathalie arranged the tiny funeral before getting Covid herself. By the time she came out of isolation Zette's niece had gone home, and a very French dance had begun of contested wills and absent relatives and Nathalie has been left like the servant at the end of Don Juan crying 'my wages, my wages'. A sad ending that would have absolutely infuriated Zette.
We shall miss Zette. We only knew her in old age, but she never really seemed very old, even when her life became so diminished. Her strength and vitality shone through the muddle to the end. When we are being elderly and dull, now that I am twenty years younger than she was when I first met her, I think of her in her gold trainers padding down to the beach with her chair at 90, or getting the tram and the bus to play ping pong, or offering to carry Ivor's luggage. I've written this piece because she deserves to be remembered. Rest in peace dear Zette.