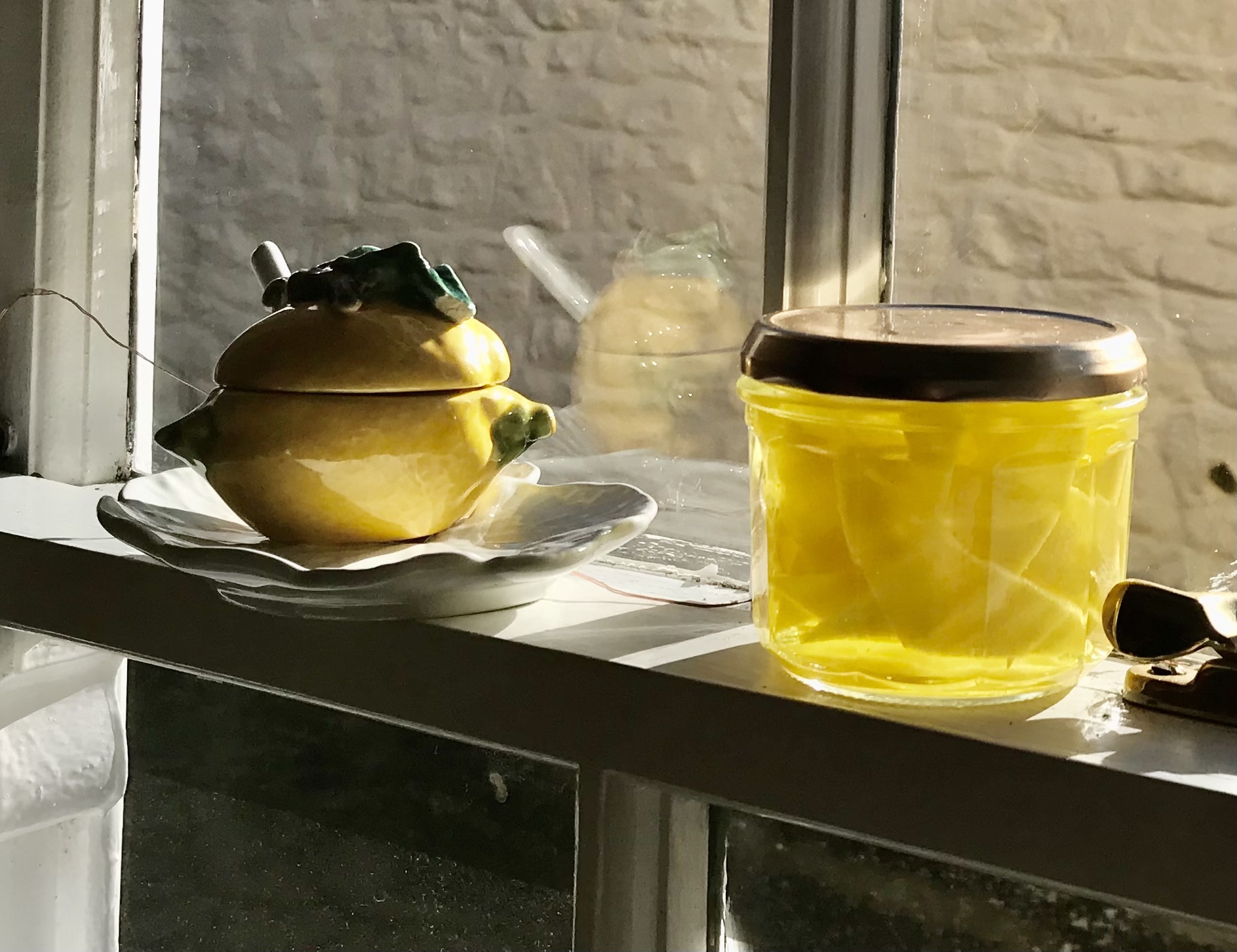 Posted on
I have become mildly obsessed with the pleasures of grapefruit. The dramatic yellow colour, so intensely bright against the background of a rainy day, the wonderful smell, exotically aromatic under a clean sharp citrus zing and the taste, which is a Wodehousian healthy pick-me-up in the morning before hot toast with good marmalade, but deliciously spicy in a gin and tonic. Even the texture is enjoyable as I pull apart the skeins and slice through the plump shreds whilst wondering what to do with the peel today. It has become a small ritual of care to slice all the pith off the peel of each quarter with a sharp knife, so that the light can shine through the translucent skin.
Like many others in those worrying days before the first lockdown I indulged my inner prepper, which in my case is more influenced by Brambley Hedge and Little House On The Prairie than post holocaust films. My mother was always inclined to what she called hibernation over the winter months, filling the freezers (she had five by the end) with interesting ingredients, bulk buying candles, and making huge batches of chutney and pickled onions before happily settling down to indoor projects. It was quite difficult to persuade her to leave her house and garden between October and March. By the time Boris solemnly instructed us to Stay At Home and Save Lives I had already filled a small cupboard with bottled lemon juice, preserved garlic, bread flour, matches and chick peas, got the sourdough starter going with five grapes, downloaded a pattern for face masks, and bought a large basil plant. I wasn't quite ripping up dust sheets for toilet paper but I had thought about it.
I know I'm not along in finding that extreme domesticity has been a brilliant complement to the challenges of helping to keep various organisations afloat, sustaining professional and family relationships through Zoom and the Royal Mail, worrying about friends and family, and dealing with the realisation that there was very little I could contribute without becoming more of a liability than a help.
As others set themselves million step challenges on their Juliet balconies, I started acquiring two grapefruit a week, at first from my rare online grocery orders, then from fortnightly forays to the local market. We usually eat it conventionally for breakfast once or twice a week, followed by home-made toast. My sourdough never got beyond the looking spectacular but actually not tasting brilliant phase, so as soon as I could buy a couple of boxes of black market dried yeast I reverted to ordinary bread, and as for the marmalade, the failure of my Seville attempt led to an Aldi Special machine purchase, but that's another story. It was the peel that led me to experiment. I couldn't bring myself to throw such fragrance and colour away. I have preserved thin strips in the ends of vodka and white rum found at the back of the drinks shelf to put in a G&T, glacéd pieces to put into cakes, grapefruit sorbet, frosted chunks to decorate tarts, flavoured caster sugar with it, made grapefruit liqueur, tempted slugs away from seedlings, made grapefruit caramel brittle.......
This week I had already selected my grapefruit at the market, but when I was paying found a bag of three in the 'everything for 50p' box at the till. Clearly five in a week for breakfast would be a disgraceful step too far towards addiction, not to mention the danger of risking contempt through familiarity, so on Wednesday I tried an Ayurvedic salad recipe incorporating grapefruit, fresh ginger, and red pepper and prawns. Tomorrow is a new dawn - time for the Aldi Special and a daring experiment with grapefruit chutney.